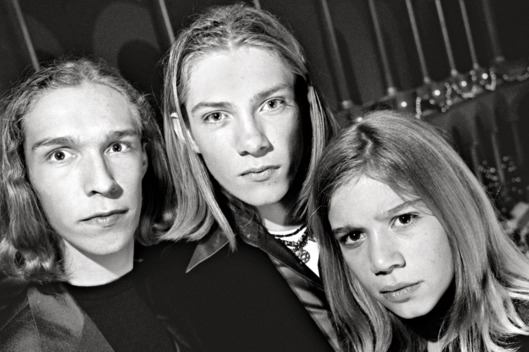 Hanson, 1997. Photo: Bill O'Leary/The Washington Post/Getty Images
Justin Bieber was 16 and set to perform before 17,000 people at 2010's New York State Fair when he caught a cold — an especially troubling turn of events given that testosterone was then ravaging his high register. "If Justin's voice was a two-story house," says Jan Smith, the Atlanta vocal coach who guided Bieber through the crisis, "he could get near where the top steps should've been, but they were missing."
Bieber postponed that state-fair show and, according to Smith, received a steroid shot to guard against any further inflammation. A cracking voice wasn't much of a problem. Even though his speaking voice had deepened, Bieber was still able to sing effectively in higher registers. Over time he maintained an appealing, chirpy timbre even as his singing voice seemed to drop, much like Michael Jackson did in his transition from Motown child to Off the Wall man. ("The color of the voices change, so they sound lower," Smith explains about these singers' abilities to weather puberty's changes, "but from a pitch perspective, they're not.") If only every star could manage puberty quite so seamlessly. Frankie Lymon, the 13-year-old soprano behind 1956's "Why Do Fools Fall in Love," saw his life and career bottom out after his voice dropped; he died of a heroin overdose at 25. Cody Simpson, the Australian teen who has opened for Bieber, developed a deeper voice and watched his fan base shift. A changed voice is also a problem for the star's backing musicians. "When the singer says, 'We have to adjust the key,' every instrument and backing singer has to change keys, too," says Dave Stroud, a vocal coach who has worked with Simpson, Bieber, and One Direction.
All teen singers, not just boys, undergo the Change: "Girls go through it, too, but not as dramatically," Stroud says. Unlike poor Lymon, today's pubescent pop stars can use Auto-Tune and other forms of electronic pitch correction. That goes for onstage, too. The state of the music business dictates that stars make their big money on the road, so in-concert pitch correction is crucial, despite many singers' reluctance. (Stroud calls it "the least favorite tool, because it's the least authentic.")
Even in the pre–Pro Tools era, producers used studio trickery to mask maturing voices. Taylor Hanson had sung an early version of Hanson's 1997 smash "MMMBop" in a bright, exciting key, but the then-14-year-old's voice cracked while rerecording the song for the band's major-label debut. After many failed takes, producers slowed down the recording tape, then sped it up later to raise his pitch. "That high voice was going away," says Steve Greenberg, the music executive who discovered the band. "Taylor never sang it in that key again."
*This article appears in the October 3, 2016, issue of New York Magazine.