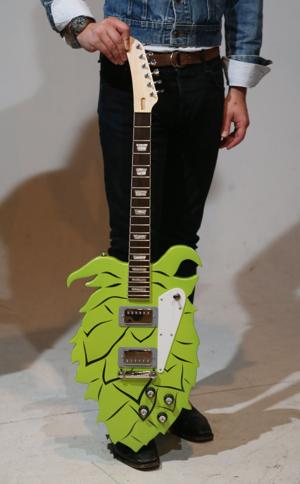 The Hop Jam guitar, created locally at the Fab Lab, will be raffled off to benefit charity. TOM GILBERT/Tulsa World
After Hanson released the breakout album "Middle of Nowhere," fans from around the world started mailing the brothers gifts.
As they started to pile up, the brothers sent out newsletters and tried to get the word out: Don't send us gifts. Send them to those who need them instead.
"The Food Bank (work) goes back to the mid-'90s when we would encourage people, hey we're really grateful for the things you send us in the mail, but rather than send us something in the mail, donate to your local food bank or do some charitable work and send us a letter and let us know what you did," Isaac Hanson said in a recent interview. "We would rather you take that generosity and pass it on to someone else that really, really needs it."
That's guided their own work, too. From their work establishing Take The Walk to combat HIV/AIDS in Africa to raising thousands of dollars for local charities like the Community Food Bank of Eastern Oklahoma and Emergency Infant Services, the brothers have made giving back a big part of their mission.
And at Sunday's The Hop Jam Beer and Music Festival in the Brady Arts District, that work continues. Hanson is partnering again with the Community Food Bank of Eastern Oklahoma and new this year, Emergency Infant Services, to raise money and support for both organizations.
"I have gotten pretty involved in trying to understand food and hunger issues in Tulsa and they're an incredible organization," Taylor Hanson said. "And unfortunately in Tulsa and Oklahoma, there's a lot of hungry families. It's kind of staggering how many are living right on the edge.
"To me there's nothing that is more broadly speaking to the foundation of being a community effort, like Hop Jam. We want Hop Jam to be one of the events in the future that hopefully brings people together."
Again this year, Hanson partnered with Fab Lab Tulsa to create a special guitar in the shape of a hop, an essential ingredient in making most beers. The fully-functioning guitar will be signed by the guest brewers and performers during The Hop Jam and will be raffled off, with tickets at $5 a piece.
"Last year's donation, they were able to provide 50,000 meals," Taylor Hanson said. "That one guitar that gets made by a cool partner like Fab Lab, it goes out and does something meaningful. That's the stuff that gets me out of bed in the morning, is assembling the possibilities.
"Here's the Fab Lab doing something really cool, here's the Food Bank with a great need, here's a lot of people coming to one place, here's an icon for an event we want to tie into the folklore into the festival. To bring all those factors together is exciting because it's serving great purposes and having value, but there's all these other ripples that happen when you tie in the positive things together."
Hanson has made a point to take decisions that come before them and examine their value beyond the money associated with it. That includes its charitable ventures.
And it's something that they hear from their fans, who appreciate their thoughtfulness when it comes to their approach to the music business.
"From an early point when people asked us to do movies and make lunchboxes and that sort of thing, we said let's do something that we'd be proud of in several years, not just things that make us money," Zac Hanson said. "The fortunate side effect of doing things you can be proud of is you usually don't do things your fans will be embarrassed of. I think we have been lucky to hit the right combination of things with young fans from the start who identify themselves and say this is important to me and who I am."
Emergency Infant Services will set up around the new area of The Hop Jam at Guthrie Green. The area will include special raffle prizes, games and family activities with the help of the EIS Junior Board of Directors, including Tulsa-area high school students. The all-ages park also will feature local music to entertain the crowds.
"You don't have to think very long to see those (issues) are pretty darn consistent, which is why we're trying to help people in bad spots whether they're halfway around the world in Africa or whether they are in our hometown," Isaac Hanson said. "Trying to help moms not pass on a deadly virus to their babies, trying to help moms and dads provide diapers and formula for their babies."
"It's not politically advantageous," Zac Hanson added. "It's just good."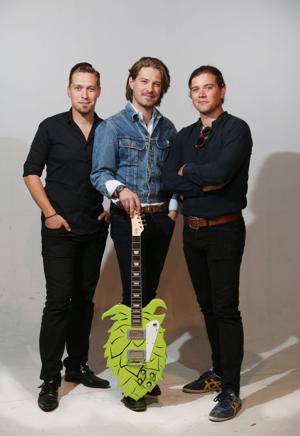 Isaac, Taylor and Zac Hanson show off The Hop Jam guitar they had made to raffle off for charity during the music and beer festival. TOM GILBERT/Tulsa World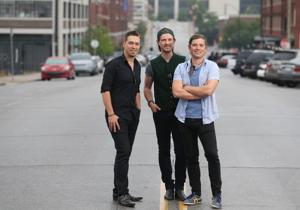 Isaac (left), Taylor and Zac Hanson will raffle off a guitar to raise money for the Community Food Bank during The Hop Jam. TOM GILBERT/Tulsa World