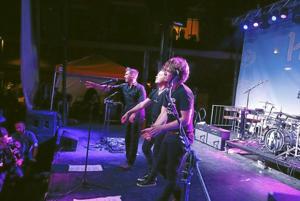 The Hop Jam
Isaac, Zac and Taylor Hanson take a bow after performing at last year's Hop Jam in the Brady Arts District. TOM GILBERT/Tulsa World file
You may not be able to make it to the House of Blues in Chicago for Hanson's concert, but you can be there in spirit.
Yahoo Live will be streaming the concert for free starting at 7:30 p.m. Thursday. Stream the show on the Live Nation Channel at yahoo.com/live. The concert can also be streamed on the Yahoo Screen app for mobile phones and TV-connected devices like Apple TV, Roku or Xbox.
The show is their second in Chicago this week. Tulsa natives Hanson kicked off their Roots & Rock n' Roll Tour on Wednesday in Chicago. Each tour stop features two nights of music: The first night featuring iconic cover songs with the second night featuring songs from Hanson's extensive catalog, including their biggest hits. Tickets are sold as a two-night package.
Upcoming shows include:
Oct. 10-11 at Phoenix Concert Theatre in Toronto
Oct. 13-14 at the House of Blues in Cleveland
Oct. 16-17 at Irving Plaza in New York City
Oct. 19-20 at Center Stage in Atlanta
Oct. 22-23 in the House of Blues in New Orleans
Oct. 24-25 at the House of Blues in Dallas
Oct. 29-30 at the Hawthorne Theater in Portland, Oregon
Nov. 1-2 in Los Angeles' Fonda Theatre
Nov. 3-4 at The Filmore in San Francisco.
Unfortunately for Tulsa fans, none of the tour stops are in Tulsa. Ticket information and more info about the shows is at hanson.net