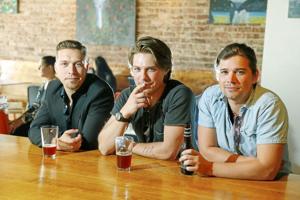 Isaac, Taylor and Zac Hanson are set to play their The Hop Jam Music and Beer Festival on Sunday. The beer-loving brothers are also among the brewers bringing beer to the festival. TOM GILBERT/Tulsa World
Taylor and Isaac Hanson rehearse in their studio before their Sunday show. TOM GILBERT/Tulsa World
Hanson's 3CG studios on Main Street are surrounded by activity. There's construction on either side of their red brick building, the sound of the Brady Arts District revitalizing at a breakneck pace.
For the international pop stars and Tulsa natives, they can't think of a better place to be than right in the middle of it.
"Places are what you make them," middle brother Taylor Hanson told the Tulsa World in a lengthy interview in their studio. "We decided a long time ago to stay invested here. We could be a part of the good things happening."
Not only have they stayed invested in Tulsa and the growth of downtown — they were in this studio well before the empty warehouses around them were converted to parks and museums — but they continue to grow their investment. Proof of that will come Sunday when thousands flock to the Brady Arts District for the second The Hop Jam Beer and Music Festival.
The free music festival brings a wide variety of music from across the world, all of it free to hear. It shows Hanson's commitment to be a part of Tulsa's revitalization, to be a part of the growth so that all parts of the city rise together.
But working and living in Tulsa has also given them a unique view of their work.
While they still work on new music, they've slowed their pace since the release of "Anthem" in 2013. They release an EP each year to members of the Hanson fan club, and they have done more work recently with their line of beer and worked on collaborations with other artists.
"It's been about trying to give ourselves the adequate time to focus on some other things that we've always wanted to do but never given enough focus to," said the oldest brother, Isaac Hanson. "It always became something that is, oh yeah when we get to it as opposed to something we were really aggressively going after."
Some of those collaborations recently included with Blues Traveler and Owl City. Those collaborations have helped the band find new sounds.
In this year's EP, Hanson previewed a synth-heavy track that was a far departure from their normal pop/rock. But it still had what Hanson fans have come to expect and hope for with a strong chorus and catchy tune.
"Over the years it's become something where we take a week or two and write and record and give it a name, give it a look and a feel and a creative vision," said drummer and younger brother Zac Hanson. "It will be the everything bagel this year."
Those Fan Club EPs give the band a chance to explore as well.
"It allows us to go, 'We're going to have fun with this little taster,'" Taylor Hanson said. "You do hear flavors of that. Sometimes you try something and say, 'Wow, I didn't know that was going to work out well. We should do that three or four times.'"
And the Hansons said that Tulsa provides them the best place to incubate that as they continue to grow.
Oklahoma musicians have a work ethic and authenticity that makes them stand out, Taylor Hanson said.
"If you look at all the musicians, from Wayne Coyne to Woody Guthrie to Reba McEntire to us to The Gap Band, there's something about all the Oklahoma artists that is very authentic," Taylor Hanson said. "Everybody that puts something out, there's very little posing."
There's a heartiness, he said. The pioneer spirit continues in the state's creativity and work ethic. And it's more than just music, but an inspiration for the continued growth of the city across all parts.
Tulsa has a spirit that defines the city, they said. It's a spirit of hard work and dedication that inspires them to work more and harder on a variety of projects as much as anything else.
"I think our job as artists is to see the potential," Zac Hanson said. "There is a part in us that sees what we want Tulsa to be, what represents us and how we want to be part of making it that anthem. That same DNA that makes us want to write songs and create things also makes us want to be a part of the best version of our hometown."