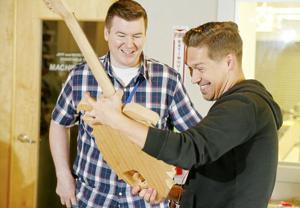 Isaac Hanson
Isaac Hanson (right) looks over the Hop Jam guitar with Tulsa Fab Lab manager Dan Moran at the Fab Lab on 710 S. Lewis Ave. TOM GILBERT/Tulsa World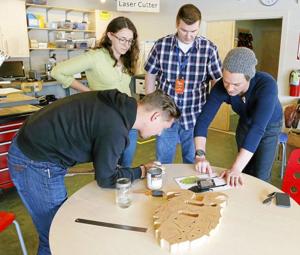 Hop Jam guitar
Isaac Hanson (left) and Taylor Hanson (right) discuss the Hop Jam guitar with education program manager Brandi Dixon and Fab Lab manager Dan Moran at Fab Lab on 710 S. Lewis Ave. TOM GILBERT/Tulsa World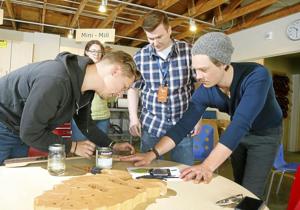 Hop Jam guitar
Isaac Hanson (left) and Taylor Hanson (right) discuss the Hop Jam guitar with education program manager Brandi Dixon and Fab Lab manager Dan Moran at Fab Lab on 710 S. Lewis Ave. TOM GILBERT/Tulsa World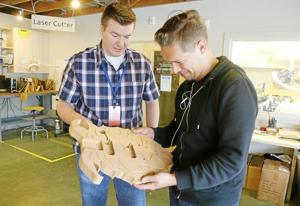 Isaac Hanson
Isaac Hanson (right) looks over the Hop Jam guitar with Fab Lab manager Dan Moran. TOM GILBERT/Tulsa World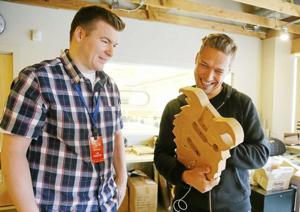 Hop Jam guitar
Isaac Hanson (right) and Fab Lab manager Dan Moran look over the Hop Jam guitar at Fab Lab on 710 S. Lewis Ave. TOM GILBERT/Tulsa World
Hanson wanted to make something to capture its marriage of music and beer into one logo for the Hop Jam Beer and Music Festival in May.
The band came up with a hop-shaped guitar. But taking it a step further to make it playable would take an even wider community effort, another message of what members of Tulsa-based band Hanson hope to communicate with the second festival: It's not just beer and music but a community coming together.
So when it came to actually making a playable guitar into the shape of a beer hop that will be raffled off at the May 17 festival to benefit the Community Food Bank of Eastern Oklahoma, Hanson turned to one of Tulsa's most communal spaces: Fab Lab Tulsa.
"The Hop Jam is clearly a community deal," Taylor Hanson said while checking out the progress on the guitar at Fab Lab Tulsa last week. "Everyone can come to the show; this is hugely communal and collaborative. This is a fundraiser, so we wanted somebody that got excited about the idea of community and collaboration.
"And this is the ultimate community space that is set up to create collaborative projects and tap into people's talents of all kinds."
And less than three weeks out from the festival, the machine-carved block of mahogany and its neck are being hand-sanded and painted. Its electronics are soon to be installed. But even now its shape is clearly a hop and clearly a guitar.
"Seeing it in person … it's phenomenal," Isaac Hanson said while holding the pieces of the guitar. "I'm blown away, I'm not going to lie."
The folks who made the guitar are a bit blown away, too. This is the first time they've made a guitar at Fab Lab Tulsa, though they definitely have the means and the skill to do so.
"One of the things I thought was really interesting about this project is it actually brings together a lot of different things and capabilities from Fab Lab in general," said Nathan Pritchett, executive director of Fab Lab Tulsa. "So we have milling, we have finishing, we have electronics. And those almost match perfectly all the work stations we have in here. Even though it's one guitar, it took three individuals' talents to put together and bring it together."
A similar guitar was made by hand last year. It was also raffled off for the food bank, which provided a big benefit to its mission. This guitar will be slightly different from last year's, as will the guitars made next year and the next.
They started with the drawing of the Hop Jam logo: a light green hop with leaves giving it depth and shape, with a guitar neck sticking out of the top and all of the knobs and strings one would expect on a guitar. Then they had to digitize it to bring that design to the physical representation on the piece of wood.
They practiced with scrap wood and other pieces before they started milling the more expensive mahogany piece.
"That sketch gave us a really good idea of where the guitar needs to go, but it's several steps between that sketch and what happens here," said Dan Moran, lab manager. "That was used for our form, but new vectors, new files had to be created to make this form here."
Pritchett said the first step was to make all the cuts and pieces to make it a playable guitar. It needed holes for all the electronics that would later be installed and the neck to fit neatly into the body. They had to nail that down first before trying to make the guitar look a certain way, he said.
This community partnership extends further to the Community Food Bank of Eastern Oklahoma. Raffle tickets will be sold at the festival, and a winner will be chosen that night to take home the guitar, which will be playable and signed by all of the artists and brewers at the festival.
And all the proceeds will benefit the food bank, which executive director Eileen Ryan Bradshaw said greatly benefits its mission to bring food security to families throughout the region.
"We have been partnering with Taylor and his efforts to improve food security for over a year," Bradshaw said. "Hop Jam and the guitar raffle is wonderful. It literally puts food on the table."
For each dollar raised in the raffle, the food bank will be able to provide four meals, Bradshaw said.
All these pieces coming together help boost each part, Pritchett said. Such a partnership benefits each party, he said.
"We always make a commitment — especially to other nonprofits — to give back where we can," Pritchett said. "And this fits perfectly into that."