For Philbrook Downtown's new exhibit on pop art of the 1970s, curators wanted an audio element to go with the vibrant visuals on the wall.
And who better to curate a playlist of pop music than a bunch of musicians.
"There are some seminal things that happened in the '70s for me: Billy Joel and Jackson 5," said Isaac Hanson of the Tulsa-native pop-rock group Hanson. Theirs is the first playlist to be featured for the exhibit.
"Fever & Flash" is now open at the downtown branch of the Philbrook, 116 E. M.B. Brady St., which features works by Robert Rauschenberg, Saul Steinberg, Larry Rivers and more, including works from one of the pop art movement's most well-known contributors, Andy Warhol.
Other artists announced Wednesday as part of the playlist collaboration include The Flaming Lips' Wayne Coyne, Samantha Crain and JD McPherson. A new playlist will be added about every other week featuring selections from a different artist through March.
Guests are invited to explore the exhibit, bring headphones, plug them into a smartphone with Spotify and listen to the music of the era as they take in the art from the time for a more immersive experience.
"We wanted to see how we could get new media into the exhibit," said Jeff Martin, online communities manager at Philbrook. "When I think of pop art, it's hard not to think of music, as well."
Hanson's playlist includes songs from Joni Mitchell, Stevie Wonder, Three Dog Night, the Bee Gees, Queen and Jackson 5.
Wednesday's event was also part of the Philbrook Downtown's monthly Art Recess program, where leaders in the art world hold discussions about their area of expertise. Wednesday's program featured Eric Shiner, director of the Andy Warhol Museum in Pittsburgh.
The next Art Recess event is set for Oct. 22. It features Tulsa-native Heather Langenkamp, who starred in "A Nightmare on Elm Street."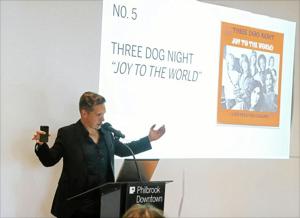 Isaac Hanson of the group Hanson runs down his top 10 list of pop songs from the 1970s at the Philbrook Downtown on Wednesday the announcement that Hanson and other Oklahoma artists will curate playlists for the "Fever & Flash" exhibit. TOM GILBERT/Tulsa World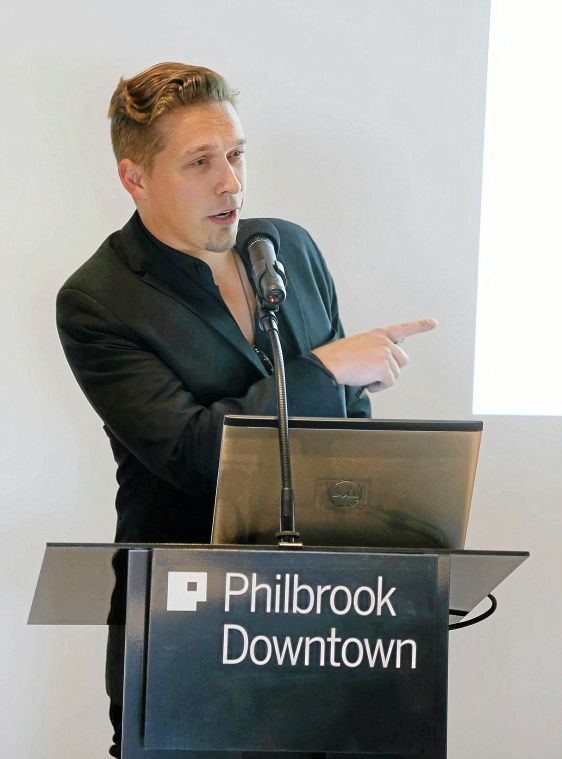 Isaac Hanson of the group Hanson runs down his top 10 list of pop songs from the 1970s at the Philbrook Downtown on Wednesday the announcement that Hanson and other Oklahoma artists will curate playlists for the "Fever & Flash" exhibit. TOM GILBERT/Tulsa World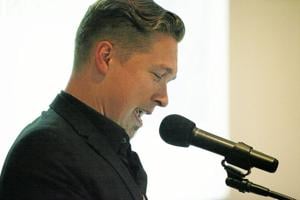 Isaac Hanson of the group Hanson runs down his top 10 list of pop songs from the 1970s at the Philbrook Downtown on Wednesday the announcement that Hanson and other Oklahoma artists will curate playlists for the "Fever & Flash" exhibit. TOM GILBERT/Tulsa World