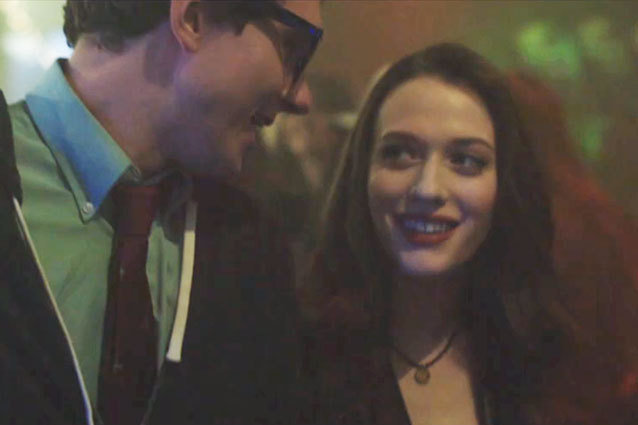 Movie and TV star Kat Dennings has accomplished a lot in her 26 years, but the actress tells Hollywood.com that only recently did she achieve one of the greatest moments of her career — starring in the music video for Hanson's new single, "Get the Girl Back."
Before you crack wise, yes, it's that Hanson — the Hanson of "Mmmbop" fame, long hair, and young marriages. But the trio of brothers from Oklahoma hasn't stopped making music since their 1997 debut and their newest release, Anthem, hits stores June 18. It's their sixth full-length studio album (not counting the Christmas album you know you still listen to every year).
"I've dreamed of this my entire life," Dennings tells Hollywood.com of her role in the new video. "I've loved them since I was like 7 years old, and through the power of Twitter and the magic of the Internet, we became friends with each other. We've gone to dinner, all became friends. Taylor and I have sent each other books, no big whoop."
RELATED: Kat Dennings Will Return for 'Thor' Sequel
Dennings says she got the gig thanks to her friendship with the family. "[Taylor] asked if I would be in their music video. I didn't even let, like, the courtesy five minutes pass by after the text. I was like, 'Yes! Anywhere, anytime. I'll do it for free. I don't give a f**k.'"
The experience was just as amazing as she expected. "It was one of the best days of my life," she says. "My lovely friend Nikki Reed is also in the video, called 'Get the Girl Back.' Nikki and I are both girls that are being gotten back, sort of. My official name was 'cute girl' for the video, but I arrive with my platonic friend who wants something more."
Check out the product of her hard work with the just-released "Get the Girl Back" video:
Get More: Hanson, Get The Girl Back, 
Music
, More Music Videos
Reporting by Leanne Aguilera.
Follow @hijean on Twitter 
[Photo Credit: 3CG Records]