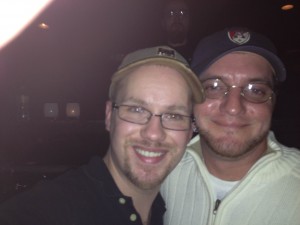 Name: Bill
Age: 28
Location: Cheshire, MA
What is the very first memory of Hanson that you have?
In 8th grade I saved up paper route money to buy my first CD player. My mom agreed to buy my first CD and it was Middle of Nowhere. I fell in love with the whole thing the first time I heard it!
How many times have you seen Hanson in concert? Favorite concert memory?
Clifton Park, NY – 3 times
Hartford, CT – 1 time
Northampton, MA – 2 times
Boston, MA – 1 time
Milwaukee, WI – 2 times (favorite memory in 2009, my best friend got a drumstick from Taylor and I got the guitar pick from Isaac and yes I did cry lmao)
NYC – 3 times (first 3 5 of 5 shows)
New Haven, CT – 1 time
Cohasset, MA – 1 time
Total of 14 shows so far.
What is your favorite Hanson song and why?
Its hard to choose, but I would have to say Minute Without You. Always makes me smile and brings me back to when I first fell in love with their music.
Why do you like/love Hansoin?
They're so incredibly good to their fans, their music is wholesome, and also no matter how much crap they get, they keep making music and making their fans happy with lots of touring.
How long have you been a Hanson fan?
Since 1997
Why should you be FAN OF THE MONTH?
It's probably rare for a male fan to get fan of the month, but I've turned quite a few friends into liking Hanson for their newer music. I think thats a little deserving, lol