In the evening of March 30, 2012, the atmosphere at the Smart-Araneta Coliseum was nothing short of electric. A healthy gathering of young, predominantly female, professionals (i.e. the teenyboppers of yesteryear) had flocked to the Big Dome en masse to indulge themselves in a rare treat.
The opening act was making its way offstage; the roadies were making final adjustments to the band's instruments and equipment; the collective excitement was absolutely palpable.
The gathered faithful weren't here for some electropop flash-in-the pan or the latest Korean act; no, this was something different. This was a shot of nostalgia in its purest, most unadulterated form. This was their memories made flesh; this was Hanson, live in Manila.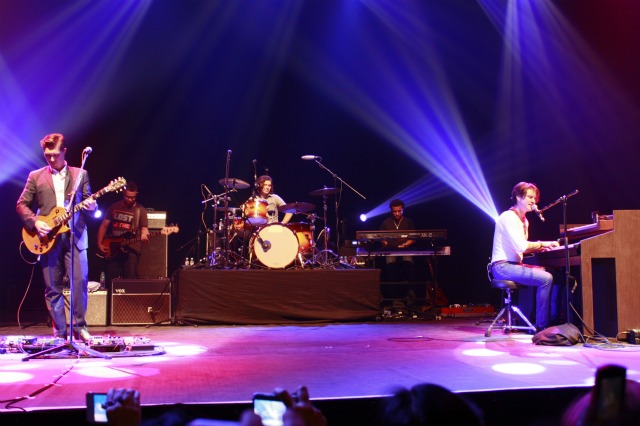 Band of brothers Isaac, Zac and Taylor Hanson exploded onto the music scene in 1997 with their debut album "Middle of Nowhere."
With a career spanning 20 years and eight studio albums, the eponymous band of brothers, Isaac, Taylor and Zac exploded onto the music scene in 1997 with their debut album, "Middle of Nowhere", selling ten million copies. That album's carrier single, "MMMBop", would cement the trio's place in popular culture. As the boys got older, their sound became more textured as it reflected a greater willingness to experiment. The years after 1997 would see Hanson release songs like "Runaway Run" (declared by Rolling Stone to be "amazing") and "Penny and Me" (which hit #2 on the Billboard Hot 100 Singles Sales chart). Creative differences with their label would lead Hanson to make the decision to go indie after their third studio album; and they haven't looked back since, setting up their own label in 2003.
While hardly (what one would consider) a fan, a passing familiarity with their songs over the years – combined with his girlfriend's devotion to Hanson – meant that, when it was announced that Dayly Entertainment was bringing the band to the Philippines for concerts in Manila and Cebu, this writer was finally going to see what the fuss is all about.
In the process of researching this piece in the build-up to the concert, it became apparent that, while many longtime fans' devotion may have had peaks and valleys, their fandom never really went away. Indeed, on concert night, the audience featured more than its share of die-hards.
One of these was Brenna Coetzee, an English teacher, who had decided to make an impulsive detour from South Korea (on her way home to her native South Africa!) to see her childhood idols. In her words, "This is one of those things that you never imagine happening. My 14-year-old self is congratulating me right now!"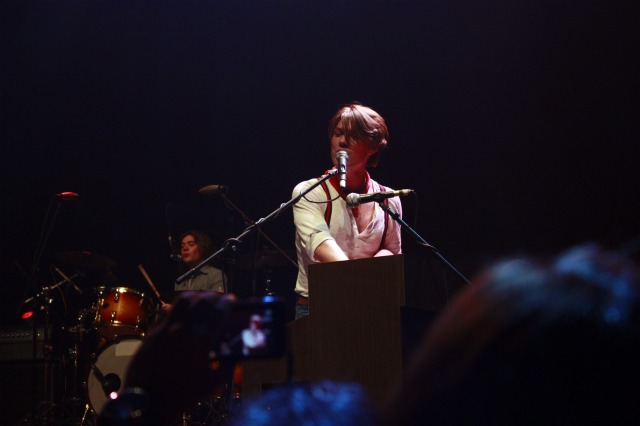 Taylor on piano and Zac on drums.
When Hanson finally took to the stage at Cubao's Big Dome, the screams, shrieks and cheers that greeted them were enough to convince anyone that they had somehow been transported back to 1997. With Isaac on lead guitar, Taylor on piano, and Zac on drums, the show opened with "Waiting for This" from their latest album "Shout It Out" before moving on to more familiar fare with "Where's the Love".
While older tracks like "And I Waited" and "MMMBop" (of course) were received with the expected ear-shattering screams, newer songs like "Give a Little" and "Thinking 'Bout Something'" were met with equal approval, demonstrating that the band's continuing foray into more mature – yet by no means downbeat –  material has not alienated the older fans.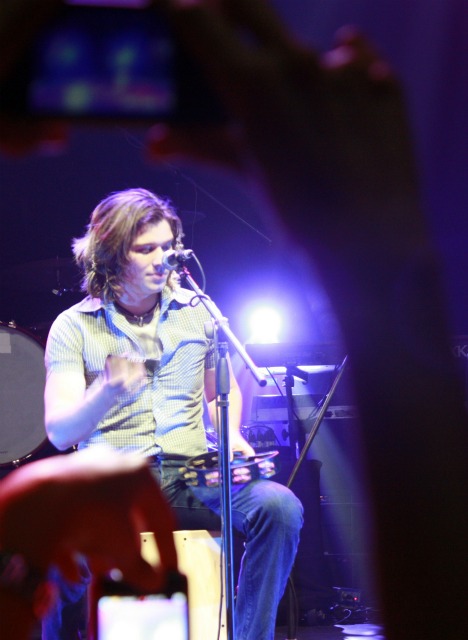 Halfway through the show, the brothers switched gears for a short acoustic set.
As the set-list moved from new songs to old and back again, the nostalgia trip that had brought much of the crowd to the Coliseum was amply rewarded. From Isaac's very first guitar riffs, Hanson's self-described blend of soul-infused pop and classic rock had the audience on their feet: stomping, dancing and singing along to – quite literally – every song. Halfway through the show, the brothers switched gears for a short acoustic set that drew even more enthusiastic applause.
The verve and confidence that Hanson showed in their performance spoke volumes about their longevity in a constantly-changing industry. While they still write their own songs and many of their pieces still feature three-part harmonies, gone are the flaxen-haired teen idols of years past. In their place stood a trio of musical professionals, well-honed in their craft, acknowledging their bubblegum pop roots, but thankfully endowed with more than enough talent to not be defined by them.
My personal favorite among their offerings that evening would turn out to be one I already knew fairly well.  With its relaxed, yet catchy, feel, "Penny and Me" is an ode to road trips with that special someone that perfectly captures the carefree feeling of hitting the open highway on a moonlit night with the car windows down.
The band finished off with "If Only", which had the audience jumping to the beat of Zac's drums while Taylor alternated his signature vocals with energetic harmonica solos. The final number for the night was "In the City", performed as an encore, featuring the poignant lyric, "…do you love me?" repeated several times. The riotous ovation that met the final bow couldn't have been a clearer – or more enthusiastic – response. –KG, GMA News