Hanson brothers Zac, Taylor, and Isaac were only in their early teens when they first invaded the music scene with their hit single "MMMBop."
Fifteen years later, the song that was initially included in one of their two independent albums is still easily remembered by many people from different generations.
With "MMMBop," Hanson may have achieved their dream on how they would want to be remembered in the music industry—"We're Hanson who writes music that lasts."
"We're nerds about music," confessed Taylor at the media conference for their "Hanson Shout It Out Tour" two-day concert in the Philippines.
The presscon was held earlier today, March 29, at the Edsa Shangri-La Hotel in Mandaluyong City
Their first concert will be held tonight, March 30, at the Smart-Araneta Center in Cubao, Quezon City.
The second night will be on Saturday, March 31, at the Waterfront Hotel in Cebu.
Taylor added, "We love songwriting or we could probably just easily be songwriters and producers. We like the music side a lot.
"Probably we wanna be known for writing songs that last.
"You know, writing music that stands the test of time. You know, the music that still holds up down the line."
Taylor, now 29 years old, also highlighted their being independent artists, which they hope could encourage other musicians.
Before Hanson released their commercial album Middle of Nowhere, the group had already recorded independent album in Tulsa, Oklahoma—Boomerang and MMMBop.
Taylor explained, "I think, there's a lot of things that we do, whether it's activism or it's about our band and what we're passionate about. I think the choice to be independent
"That kind of career is a part of our story now because it really comes from the point of view of our passion for the whole industry, the whole idea of great art and great music.
"It's kind of taking some leadership, to run out there and try things."
Then, he reiterated, "But ultimately, I think, just be known for songs that stands the test of time. That we're Hanson who writes music that lasts."
NOT GOING SOLO. Even before they became popular, the Hanson siblings have been creating music as a group.
That is why, according to Taylor, it never crossed their minds to part ways and have a career as solo artists.
He said, "We've never focused on solo projects because we have so much to do as a band.
"It's hard to find a pair of people that you can make music with as fluently and share the same kind of aspirations.
"That being said, I can't imagine the rest of our career that there will be other projects and things.
"You have to think what you're excited about so we've never closed that door.
"But I think we still have a lot to do as a band."
SHOUT IT OUT.  Part of their concert tour is to promote Hanson's eighth album Shout It Out.
During the press conference, the Hanson brothers were asked about their personal favorites in the album.
For Isaac, 31, who plays the guitars, chose "Thinkin' 'Bout Somethin.'"
He explained, "I've always been incredibly infatuated with Big Time, Motown, and the early R&B kind of sound—whether it be late '50s or early '60s.
"For me, that song embodies a lot of things that we are as a band.
"Also, as a guitar player, it's very rhythmic. It's not powerful. I don't want it to be a 'rock band.'
"I just want it to be like a song which had a groove or kind of funky, for the lack of better word to say it."
Hanson returns to Manila for two-day concert in Manila and Cebu
Photo By: Noel Orsal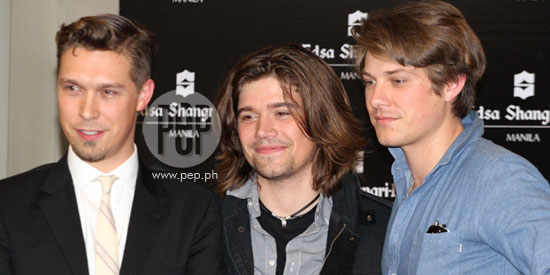 Taylor, on the other hand, likes the first single in the album, "Waiting For This."He said, "I'm always excited when that particular song arrives.
"It feels like the opening or introduction to whatever that period is.
"I think that the song 'Waiting For This' is about attacking the moment.
"I don't know if that represents me or all of us. But it's a statement that's very, very, true for our band.
"It goes back to what we are trying to say when we go out every night, which is this could be the last night or the first night so we gotta embrace the moment."
Their younger brother, Zac, 26, prefers "Musical Ride."
"It's all about music," the then little drummer boy of the group told the media.
"It's all about the ride that we have been on for 20 years.
"And it sometimes talks about how music leaves you with nothing and sometimes gives you everything.
"I think it's a sort of appropriate song to what this experience is."