American rock/pop band Hanson have arrived in London this week for the UK leg of their 'Shout It Out' world tour.
The trio from Tulsa, Oklahoma, comprising brothers Isaac (guitar, vocals), Taylor (keyboards, piano, vocals), and Zac Hanson (drums, vocals) have sold over 15 million records worldwide and had a number one single in 25 countries.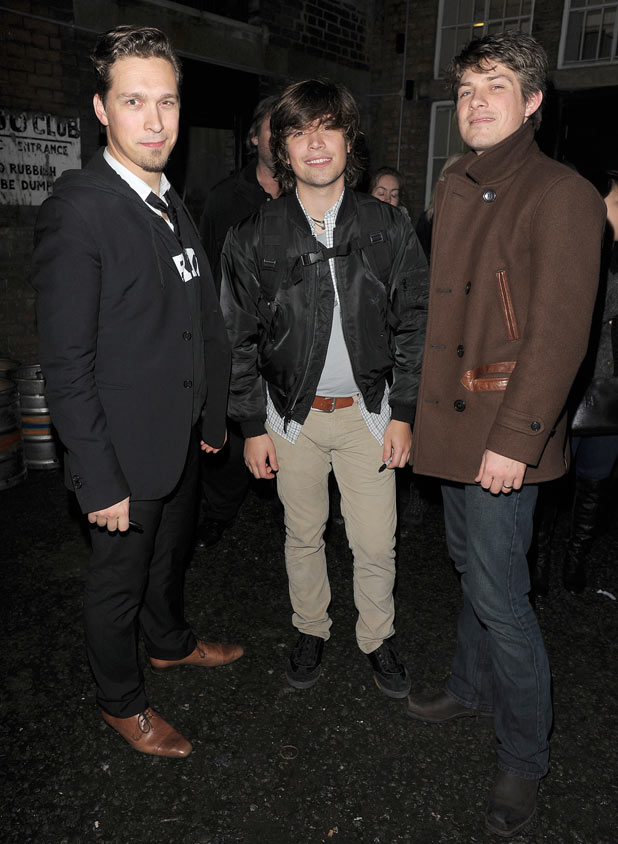 Speaking to Digital Spy, 31-year-old Isaac explained why the band, who completed a sell-out five-night residency at King's College London in June, were so keen to make a return to the UK.
"The UK is one of our favorite places to tour and play, and we have a lot of fun here," he said.
"After four years of not being here, we're trying to make up for lost time. It's been a real goal for us to build and to focus ourselves, and we decided we're gonna focus on the whole world, and actually there are shows everywhere, but there's always someone that you're not getting to. So we're trying to make everyone as happy as possible. The UK is kind of an anchor."
Following on from the success of their critically-acclaimed album The Walk and now recording under their own label 3CG Records, the band have said that new album Shout It Out reflects where the trio are both personally and professionally.
"If you look at it that way, I think we're in a pretty good place," says Zac. "I think it's a record that's loud and proud and happy to be where it is. Our last album was called The Walk and I think that was indicative of the slow steady climb and I think this record is almost the opposite of that.
"It's sort of reveling in the achievement of the time that has passed. The fact that this is our fifth album, it's a landmark time for us. We've been doing this together for 20 years. It's a big deal. There is a serious excitement in the feeling that is worth remembering and reveling in."
Watch the music video for Hanson's 1997 number one hit 'MMMBop' below:
Isaac went on to explain how it feels to perform to an audience of thousands, saying: "There's definitely a high to performing, and our shows are a lot of up and down. You'll be quiet and then there's a peak, and the job is to get people out of their shell. I don't know exactly what a rock god feels like, but it's amazing and it's incredible."
For 26-year-old Zac, the opportunity to meet fans from different cultures has been the greatest revelation of the touring experience.
"You go to Chile, you go to Argentina, you go to Mexico, France, Germany, Italy, the US and the UK and still people respond to the same songs in a very similar way. To me, it's a very interesting experience," he added.
"More amazing than what's different about each culture, is how similar everyone is, even from very different cultures, different languages, and people respond in very similar ways. Being a rock god is pretty awesome!"
Hanson also offered their opinion on the music stars emerging from reality TV shows such as The X Factor and American Idol.
"I don't mean to be mean in saying this," said Zac, "but you're not gonna really find the best artist like that. You can find talented people at some level, but that's that – it's TV. As long as you look at it from that perspective and just enjoy it. Don't expect American Idol to crank out the next superstar or somebody that's gonna be the voice of a generation."
"Most of the greatest artists that have ever been, most of them would not win a show like that," added 28-year-old Taylor. "Bob Dylan's gonna walk up on stage and he'd get booed, or even Bruce Springsteen. They'd be like, 'You're singing like this?'
"So I think it's TV. It's entertaining and people like to see the story. There is some talent to come out of that, such as Leona Lewis."
The 'Shout It Out' tour will feature tracks from Hanson's acclaimed fifth studio album of the same name, as well as highlights from their previous four albums, spanning nearly 15 years of music.
Hanson will be performing at the following venues in the UK this month:
November 25 – Edinburgh, HMV Picture House
November 26 – Newcastle, O2 Academy
November 27 – Birmingham, HMV Institute
November 29 – London, IndigO2