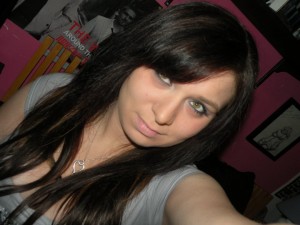 Name: Candis Leigh
Age: 26
Location: Milwaukee, WI
1) What is the very first memory of Hanson that you have?
I bought the 'mmmbop' single on my 12th birthday, the day AFTER Middle of nowhere came out. I had a feeling it was the beginning of the the end haha
2) How many times have you seen Hanson in concert? Favorite concert memory?
42 times in concert, favorite memory is a toss up between hearing "Never Let go" and "Save me" for the first times live.
3) What is your favorite Hanson song, and why?
"Every Word I say" -The lyrics mean the most to me.
4) Why do you like/love Hanson?
I love them because they were some of the most talented guys I had ever seen. Everything about them was just calling for me to be a fan of them 🙂
5) How long have you been a Hanson fan?
Since 1997 🙂
6) Why should you be FAN OF THE MONTH?
I should be fan of the month because everuday I do my best to bring them up at least ONCE in a conversation. It is always interesting 🙂
7) State a piece of trivia in regards to you & Hanson (optional)
Let's see Zac Hanson one time told me to "stop laughing" and Isaac and I had a small "argument" that day. I have it all on video lol